Turn a Child's Life Around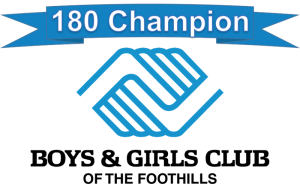 BGCF works to uplift those youth most at risk of dropping out, joining a gang, being a victim of and/or participating in violent crime, abusing drugs and alcohol, facing teen pregnancy, entering prison and/or becoming low wage earners. Young people who attend Boys & Girls Clubs are consistently ahead of their peers in academic confidence, school effort, integrity and conflict resolution skills, abstaining from drugs and alcohol, participation in community service, and setting goals for higher learning. Clubs help kids overcome their obstacles and change the direction of their lives.
YOU can be the catalyst that helps turn a young person's life around! Become a "180 CHAMPION" for just $15 each month ($180/year), and ensure our youth have a safe, constructive place to spend their out-of-school time. 180 CHAMPIONS are members of an exclusive giving club who commit to donating $180 to Boys & Girls Club of the Foothills each year to help youth turn their lives in a new direction. Become a 180 CHAMPION today!