7th Annual Post Alarm Systems Golf Tournament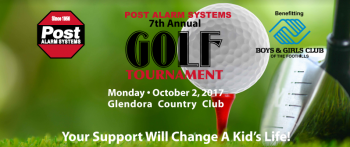 A day on the green, while changing the life of a child in need –- what more can you ask for?
Post Alarms Systems Annual Golf Tournament
Monday, October 2, 2017
Glendora Country Club
310 S. Amelia Avenue, Glendora
11AM – 7PM
Join us for a full day of golf, lunch, dinner, auction and raffle prizes, and awards!
All proceeds benefit Boys & Girls Club of the Foothills.
Get a team together or become a sponsor.
Visit the official event website for more info or to register online.
Questions? Email rpost@postalarm.com