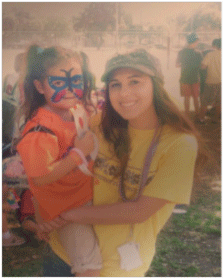 Adrianna
Adrianna's father was sentenced to prison for eight years when she was just three years old. Soon after, Adrianna moved to Monrovia, California with her mom, brother and sister from Miami, Florida to get a fresh start. They didn't know anyone and were worried about what the future may hold. As a single mother, her mom struggled to keep the family afloat, however, she succeeded in providing for her kids with the bare minimum. Knowing how vulnerable Adrianna was at this stage in her life, Adrianna's mom signed her up for the Boys & Girls Club of the Foothills. Her mom felt like the Club was a savior! It allowed Adrianna to be in a safe setting where she received tutoring and was provided opportunities she would have otherwise not had. Adrianna attended the Boys & Girls Club every day and every school break and grew to consider the staff at the Club her family. Like many kids, Adrianna was constantly pulled towards bad influences and often bullied by peers at school.
Ms. Amita, a staff member at BGCF, took notice of Adrianna's struggles and pulled her into the learning center to work on homework, which began to give her the basic principles of studying, organization, and the courage to never give up. Adrianna says, "I am truly grateful for all the staff that pushed me to become the young woman I am today." Adrianna did develop into an amazing young lady. In high school she started an anti-bullying club, she was Miss Teen Monrovia, and she organized a make-over day for young ladies who couldn't afford it before prom night. Her senior year, Adrianna joined the Boys & Girls Club Junior Staff. She got the opportunity to work with young kids just like her and be a role model for them. Last spring, Adrianna graduated from high school and in August drove back across the country to attend Lynn University in Boca Raton, FL.
Adrianna writes, "I just finished my first semester of college with a 3.8 GPA. I'm part of the 3.0 program which is an advanced placement program that allows me to graduate in 3 years. College is great! One of the most amazing things I got to experience this fall, was the last presidential debate that took place at my school. It was incredible to see President Obama and Governor Romney!"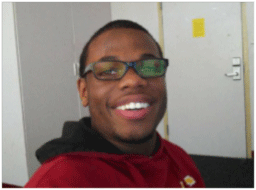 Earl
Earl will tell you that Boys & Girls Club of the Foothills saved his life. At 8 years old, his dad was murdered in a gang shooting. Earl was devastated and, as an 8-year old, he didn't know how to process his pain. He started getting in trouble at school, getting into fights, and not doing his school work. By the time he was in 7th grade, it was clear that Earl was walking down the same path as his dad. Earl's mom decided it was time to make a drastic change to try and keep Earl from the same fate as his dad. She moved the family to Monrovia and got Earl enrolled in the Boys & Girls Club of the Foothills. At first, it was just sports that kept Earl involved, but over time got more and more connected. One of our staff, Greg, took Earl under his wing and really helped Earl grow up. When Earl was in high school, he got involved in the Leaders in Training program at the Club. Earl would tell you that this program was life changing! Earl went on to graduate from high school, attended PCC for 2 years and worked at the Club during that time. In the fall of 2011, Earl transferred to New Mexico Highlands University. Earl was the first in his family to graduate from high school and attend college. Earl's leadership was noticed at NMHU and he was asked to apply to be an RA for one of the campus dorms.  Not only did Earl become an RA, but he also played on a local rugby team and his team won the Championship. Earl could have easily been a statistic and a drain on society, but now he is an ASSET in our community and our world!